Next

Event

Alle Informationen zur nächsten Dance Revolution.
Dance Revolution - Newcomer Edition
Samstag, 08.12.2018
Flösserplatz (Aareal), Aarau
Sa. 08.12.2018

22:00 - 04:00

Aarau

16 Jahre

TBA
Line Up
DJ RESTLEZZ (CH)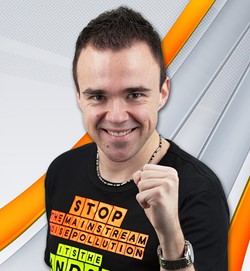 Wer in der Schweiz auf Hands Up oder Jumpstyle steht, kommt kaum um DJ Restlezz herum. Egal ob an der SONIC, der Dance Revolution oder der Up'n'Down – Gibt's irgendwo Hands Up Musik auf die Ohren, ist DJ Restlezz an den Decks.

Hits


Reunite, Herz Voraus, Happy Revolution, Fun & Celebration, Halway Around The World, So Let's Go, Die Letzte Zugabe

Remixe


Bis In Alle Ewigkeit, Lass Dein Herz An, Beat & Lights, Explode The Dancefloor, Oh Baby

Bootlegs


Mein Herz Schlägt Schlager, Shut Up And Dance, Verrückt Nach Dir, Mein Herz, Wake Up

Referenzen


Easter Rave, SONIC, OXA, Energy, Ruhr in Love, Dance Revolution, Hands Up United Love Mobile

Website


djrestlezz.ch

Movies
Kommende

Events

Informiere dich über alle anstehenden Dance Revolutions.